LCC POOL ALGAECIDE 2.5LTR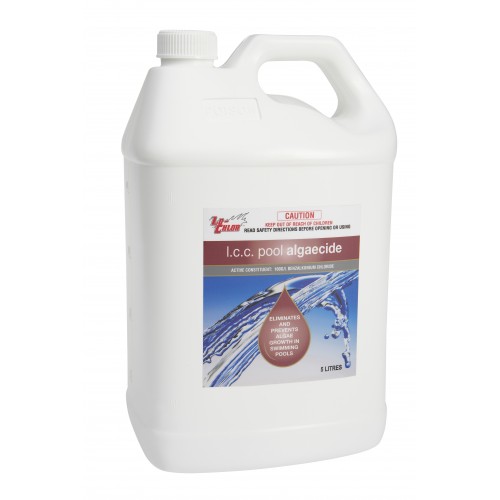 (50LCC2.5L) l.c.c. pool algaecide
This is an economical, quaternary ammonium, algaecide
Features & Benefits
A pool owner who wishes to use an economical maintenance algaecide.
A pool owner requiring an economical product for eradication of blue green algae.
Ideal product for pebble and aging pool surfaces.
Ideal product for salt chlorinated and ionised pools.
It may be used on a regular basis in situations where a metal based maintenance algaecide is inappropriate.
May be used in all types of pool finishes.
Compatible with all recognised sanitisers and other pool additives.
May be used in situations where a metal based algaecide is inappropriate.
As well as lysing the algae cells, the increased detergent action (foaming) assists in releasing the clinging algae crusts from pool surfaces.
Dosage rate:
Regular Use: 250ml per 10,000 litres.
Heavy Algae: 400ml per 10,000 litres.
Winter: 500ml per 10,000 litres.
A few facts from the professionals...
Product may smell and foam for a short period.
Reduce pH to around 6.8 for best results. At lower pH the waxy coating surrounding algae cells is greatly softened and allows easier penetration by chemicals.
Using "equal parts" of l.c.c. pool algaecide and liquid chlorine (i.e. 5 litres of each) can help accelerate the action of the product.
Use in conjunction with starver® for really bad pools.
Regular brushing recommended to assist in algae removal.
High doses of quat compound may combine with free chlorine resulting in excess levels of combined chlorine and this may last 2 or 3 days. Addition of Aqua Boost is recommended if condition persists.
After algae have been removed always follow up with regular dosing of a Lo-Chlor algaecides and starver® to prevent re-occurrence of algae and assist other chemicals to work more effectively.