AQUAFRESH START-UP KIT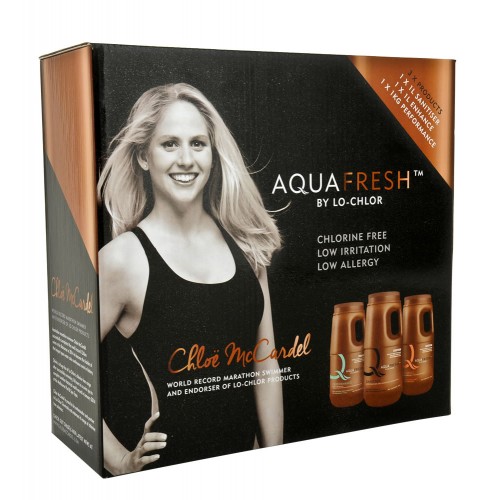 (52AFSKIT): AQUAFRESH™ START-UP KIT
THE REVOLUTIONARY NON CHLORINE WATER CARE SYSTEM
Every pool owner would like each swim to give them a RELAXING and THERAPEUTIC EXPERIENCE without any of the
INHERENT SIDE EFFECTS that are associated with CHLORINE or BROMINE such as SMELL and STICKY FEELING.
AQUAFRESH™ by Lo-Chlor WILL give them the RELAXING and THERAPEUTIC EXPERIENCE that they are looking for.
The Lo-Chlor AQUAFRESH™ WATER CARE SYSTEM
Is especially ideal for allergy sufferers, including those who suffer from asthma or skin problems.

As Lo-Chlor AQUAFRESH™ contains no chlorine, bromine or lithium it is like being in clean fresh water.

Lo-Chlor AQUAFRESH™ is kind to both humans and the environment, is gentle on skin, hair and clothing and the freshness can provide a sense of total wellbeing.

Pool Owners will not be breathing in chemical fumes using Lo-Chlor AQUAFRESH™ as may be the case with other sanitising systems.

Normal dosing is once every week, making Lo-Chlor AQUAFRESH™ both easy and economical to maintain.
Lo-Chlor AQUAFRESH™
May be used in all sorts of pools

Is compatible with ozone generators and ionisers

Has no effect on heaters thus giving longer heater life

Is compatible with all recognised pool equipment, such as heaters and pumps.

Is non-foaming and this means that it

Will not block filters.

Will not leave a mess on the pool walls.

Will not cause the heater to corrode.

Will not damage clothing, towels or hair etc.
The Lo-Chlor AQUAFRESH™ WATER CARE SYSTEM
Comprises of 3 COMPANION PRODUCTS that are designed to work in unison to give THE ULTIMATE BATHING EXPERIENCE as well as keep a pool in PRISTINE CONDITION in the EASIEST and MOST ECONOMICAL manner. ALL of this is achieved WITHOUT the use of CHLORINE or BROMINE
Related Products