AQUASPA FILTER KLENZ SPRAY 500ML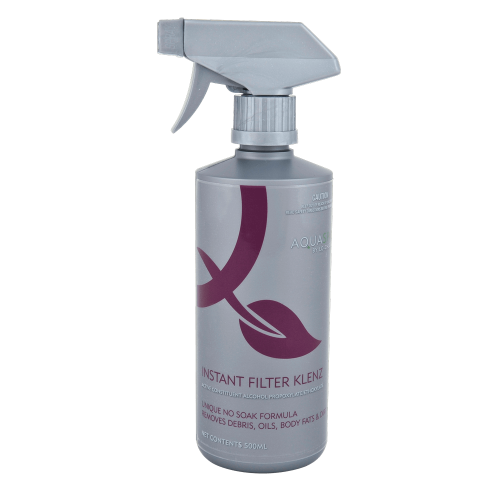 (52AQFK500M):  QUICKEST AND EASIEST WAY TO CLEAN CARTRIDGE FILTER.
INSTANT RESULTS NO SOAKING NEEDED.
EASY TO USE
Comes in HANDY TRIGGER SPRAY bottle
NO NEED TO SOAK FILTER anymore
o Just SPRAY ON and HOSE OFF
Specially formulated to REMOVE FROM YOUR FILTER
o OILS, MINERALS and DEBRIS.
o GRIME, ORGANIC BUILD UP and CALCIUM SCALE
Very ECONOMICAL to use.
EXTRA TIPS
1. KEEP YOUR FILTER AS CLEAN AS POSSIBLE BY CLEANING IT REGULARLY.
2. MAKE FILTER CLEANING PART OF YOUR REGULAR WINTER MAINTENANCE PROGRAM.
YOU'LL BE AMAZED HOW CLEAN YOUR FILTER LOOKS AFTER EACH TREATMENT.