PREMIUM STRENGTH COMMERCIAL CLARIFIER 5LT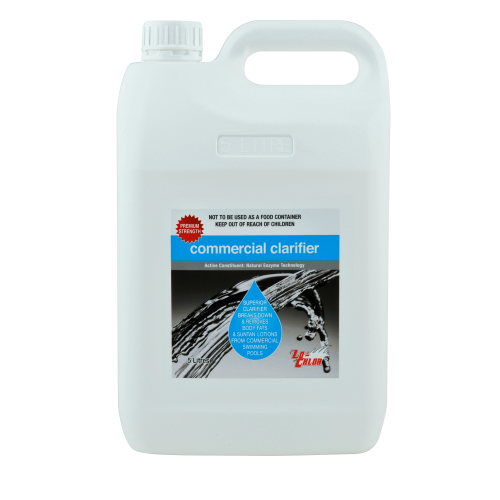 (55PCC5L): LO-CHLOR PREMIUM STRENGTH COMMERCIAL CLARIFIER
LO-CHLOR PREMIUM STRENGTH COMMERCIAL CLARIFIER is a natural concentrated clarifier that is specially formulated to remove body fats and oils in COMMERCIAL POOLS
The product is made from CHITIN Chitin (pronounced kite-in) came into being in the 1970's when the EPA ordered fishing companies to stop dumping the shells of crabs and lobsters back into the ocean. 
Researchers discovered that the chitin contained in the shells had properties that could be applicable in a variety of industrial uses. Similar to cellulose, chitin is a naturally occurring polymer. 
It is also the only naturally occurring polyelectrolyte. Chitin is produced in a patented formula called LO-CHLOR PREMIUM STRENGTH COMMERCIAL CLARIFIER which, as the name implies, is specially 
designed for COMMERCIAL POOL use.
Benefits
The properties of chitin enable it to attach itself to a variety of organic contaminants, minerals, metals and oils.
The result is clearer, cleaner water with less staining and scaling.
It also has a beneficial effect on the filtering medium, whether sand, DE or cartridge.
The efficiency of filtering improves with regular use
Chitin's natural coagulants help the filter to trap more dirt and debris.
LO-CHLOR PREMIUM STRENGTH COMMERCIAL CLARIFIER is compatible with all types of pool chemicals and pool finishes
It is a great addition to any sanitising program.
Additional Tips
LO-CHLOR PREMIUM STRENGTH COMMERCIAL CLARIFIER is added as a liquid directly to the pool.
In a commercial environment, it can be described as an all in one replacement for clarifiers, filter aids, stain & scale magnets, and enzymes.
Sizes: 5LT, 20LT
Dosage:
0.4LT treats 250,000 Litres pool water
1.6LT treats 1000,000 Litres pool water