ULTRA KLEER 2IN1 5LT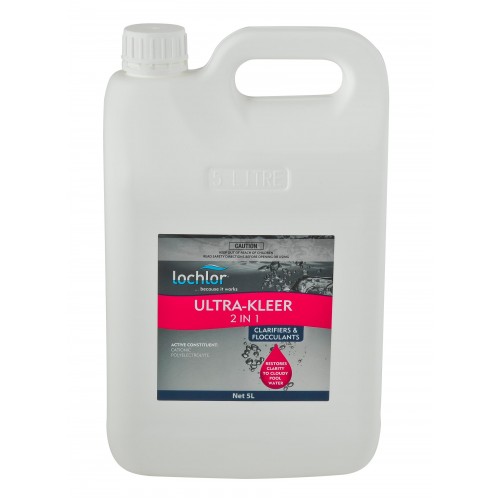 (55UK5L): LO-CHLOR ULTRA KLEER 2 in 1  5LT
Concentrated Clarifier & Flocculent
Excellent sand filter conditioner
Features & Benefits
Use as an alternative floccing agent to Alum compounds.
Whilst Ultra Kleer 2 in 1 is not as strong as Alum it certainly offers advantages (no messy residue and normally no need to vacuum).
Sand filtration systems certainly benefit from the addition of Ultra Kleer 2-1.
Effective clarifier, compatible with all types of pool systems and surfaces
Will not affect pH balance
Non-toxic and non-irritating
Improves filter efficiency
When used consistently, reduces the organic content of your pool water so that you will need to use less chlorine, bromine and algaecide
Extra tips and benefits
• Lo-Chlor Ultra Kleer 2 in 1 is an excellent sand filter conditioner
• Simply pour 1LT of Lo-Chlor Ultra Kleer 2 in 1 directly into the skimmer and keep pump running for a minimum of 8 - 12 hours
• Fantastic results overnight.
Dosage
Clarifier: 200ML per 50,000Litres.
Floccing: 500ML per 50,000Litres.
Sand Filter Aid: 1LT poured directly into the skimmer.
What is the difference between a clarifier and a flocculent?
A clarifier is designed to be used with a filter system, so particles coagulate in the filter.
A flocculent is NOT to be used with the filtration system as the filter may clog.
Flocculants are formulated to drop particles to the bottom of the pool, so they can be vacuumed away.