FILTER CLEANER & DEGREASER 20LT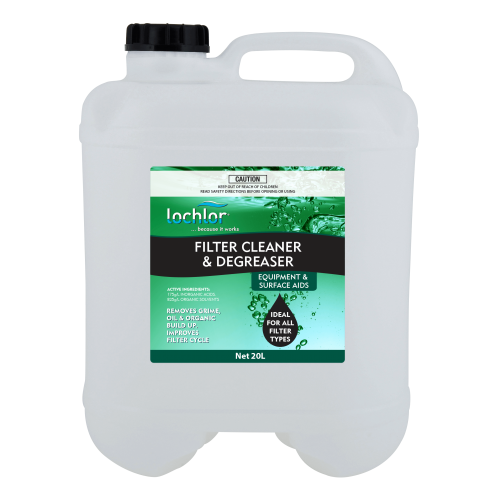 (60FCD20L): LO-CHLOR FILTER CLEANER & DEGREASER 20LT
Strong Organic and Inorganic Compound
Proprietary blend which removes grim, organic build up and CALCIUM SCALE unlike most other filter cleaners on the market
Benefits
24 hour application.
Enhances chemical performance.
Prolongs life of filter media.
Advanced formulations for the cleaning and degreasing of D.E. filters and cartridge filter grids.
Also used for all types of sand filters.
Removes grime, dead algae, oil, organic deposits as well as scale and unwanted metals.
Dosage rates
Read directions for use carefully before use
Hot tips for pool professionals
D.E. and Cartridge Filters: Best results will be obtained when the soiled elements are hosed before      cleaning to remove as much debris as possible. Also hose well before re-assembly.
Never add this product to pool water.
Lo-Chlor recommend that filters be cleaned regularly.
Sand filters at least twice a year. D.E. and cartridge as necessary.
Make filter cleaning part of your regular winter shutdown maintenance program.