CLEAN CELL PLUS 5LT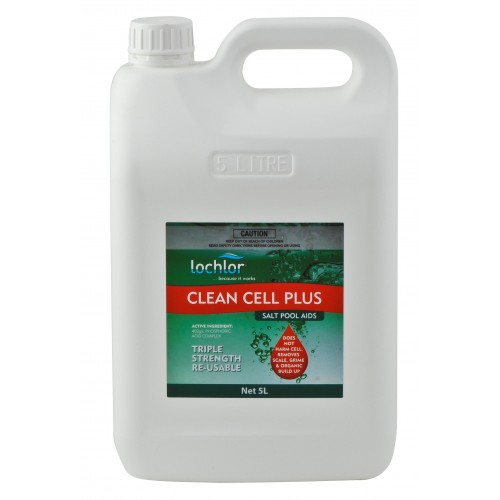 (60CCP5L): LO-CHLOR CLEAN CELL PLUS 5LT
Strong Acidic Mixture That Is SAFE And RE-USABLE.
A complex blend of phosphoric acid and non ionic surfactants.
DOES NOT CONTAIN HYDROCHLORIC ACID
Benefits
Removed calcium build up from salt chlorinator cells
Also removes grime and organic build up
Does not affect precious metals on salt chlorinator cells (Unlike other harsh compounds that contain Hydrochloric Acid)
Reusable solution
Prolongs life of salt chlorinator cell
Increases efficiency of salt chlorine generation
Compatible with ALL salt chlorinators
Important Notes
Reusable (at least 3-4 times)
Contains acid - follow safety directions and use caution
Application
Pour Lo-Chlor Clean Cell Plus into a plastic container
Immerse the salt chlorinator cell in the plastic container for around 10 minutes
Heavily encrusted cells may require further treatment
Best results will be obtained when the cell is hosed in warm water before treatment
Hot Tips for professionals
• Try Lo-Chlor Clean Cell Plus for those hard to remove scum lines around the pool waterline.
• Just rub on with a damp cloth. You'll be amazed at the result
• Don't forget to wear gloves