SALT CELL PROTECTOR PLUS 5LT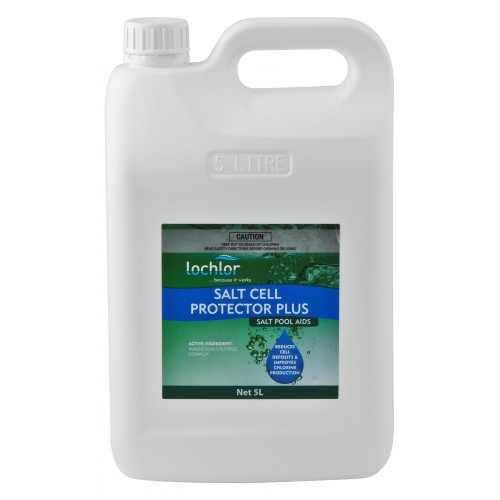 (60SCP5L): LO-CHLOR SALT CELL PROTECTOR PLUS 5LT
Calcium Inhibitor That Softens HEAVILY ENCRUSTED SALT CELLS
Benefits
Advanced magnesium based formulation (soft compound)
As well as limiting the build up of calcium scale on salt chlorinator cells, salt cell protector plus will soften any deposits, making them so much easier to remove.
One treatment of Lo-Chlor Salt Cell Protector Plus will last for approximately 6 months
Extremely economical product to use.
Lo-Chlor Salt Cell Protector Plus increases chloride concentration in water-enhancing chlorine production.
Important Notes
Does not contain sulphates like Epsom salts.
These Sulphates can attack cement and grout, which will in turn deteriorate over time.
Helps protect marble sheen and exposed aggregate surfaces from scaling.
Dosage
5LT per 50,000 Litres pool water every 6 months
Did you know?
Salt chlorination has overcome the limitations of hand-dosing through the on-site production of chlorine.
Current estimates place salt chlorination in over 60% of all pools in Australia and New Zealand.
Lo-Chlor Chemicals has the most advanced range of specialised salt water treatments to service all your pool and spa needs.