SPOT AWAY 4KG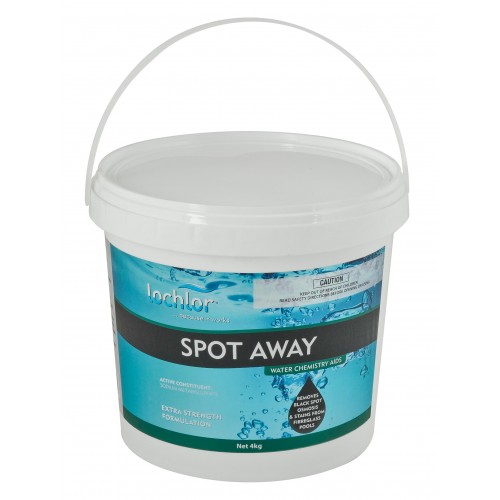 (70SA4K): LO-CHLOR SPOTAWAY 4KG
For The Removal Of BLACK SPOTS IN FIBREGLASS POOLS Otherwise known as OSMOSIS
Features & Benefits
Will remove most stains from fibreglass pools
Particularly effective treatment for osmosis
Effective in removing stains and deposits caused by calcium, copper and iron
Effective in eliminating what appear as black spots in fibreglass pools
The black spot we are describing should NOT be confused with Black Spot Algae
This black spot is ONLY found in fibreglass pools
It is a reaction in fibreglass pools which produces a cobalt hydroxide accretion on the fibreglass
This black spot may effectively be removed by the addition of Lo-Chlor Spotaway
Dosage and application
4KG treats 50,000 Litres pool water
Tips from the stain experts...
Black Spot removal in fiberglass Pools:
Remove Chlorine.
Add 4 KG of Lo-Chlor Spotaway and leave overnight or up to 4 days, if necessary.
Balance water and Superchlorinate.
After 24 hours add 1 Litre of Lo-Chlor Metal Solution.
Note. This treatment removes the visible Black Spot but does not stop the osmosis which caused it.
The Black Spots will reappear after three to six months.