SALT STAIN REMOVER 1KG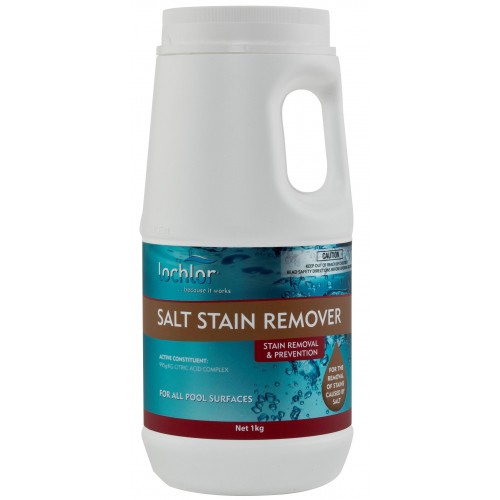 (70SSR1K): LO-CHLOR SALT STAIN REMOVER 1KG
For The Removal Of BROWN IRON STAINS
Anhydrous blend of Citric acid and other inert ingredients
Features & Benefits
Removes stains caused by iron in swimming pools
Can be used on all surfaces
Ideal for pools where salt stains are common
Dosage and application
1KG treats 50,000 Litres pool water
Tips from the stain experts...
Iron and Manganese stain removal
Remove Chlorine and ensure pH is 7.2 to 7.6.
Add 1 Kg of Lo-Chlor Salt Stain Remover, by sprinkling around the outside of the pool.
Filter as normal.
The stain should be gone within twelve hours.
If in the unlikely event this does not remove all the stain, repeat with another 1 Kg.
When the stain is gone, add 1 Litre of Lo-Chlor Metal Solution.
Do not Superchlorinate for 10 days after adding Metal solution, or the stain will return immediately.
It takes about 10 days to 2 weeks for Metal Solution to get rid of a stain.
If the stain was severe it may be necessary, after stain removal, to adjust pH to 7.8 to 8.0 and add 1 Litre Lo-Chlor Maxi Floc Plus.
Making the pool alkaline and then floccing will remove about 70% of the dissolved metals.
Leave overnight and then vacuum to waste.
Balance the water and then add 1 Litre of Lo-Chlor Metal Solution.
For a salt water pool this treatment may need to be repeated every six months!